GUARD Archaeology are pleased to be sponsoring this year's Edinburgh, Lothians and Borders Archaeology Conference on Saturday 18 November 2017, to be held at Queen Margaret University in Musselburgh. Organised by the Archaeology Officers of East Lothian Council, the City of Edinburgh Council and Scottish Borders Council, this conference includes updates on recent archaeological work in East Lothian, Edinburgh and the Scottish Borders.
One of the lectures will be given by GUARD Archaeology's Publications Manager, Beverley Ballin Smith. Beverley's presentation concerns four sites distributed across south-east Scotland that generally produced limited evidence of prehistoric activities. That evidence is as slight as a single radiocarbon date, or an isolated pit or three, with occasional sherds of pottery. The occurrence of these features and material cultural evidence in landscapes as diverse as a hill top or a flood plain indicates that prehistoric peoples explored and moved everywhere, and left, in some cases, only ephemeral traces of their activities.
The problem for us today is to try to understand those peripheral activities from the evidence that survives. By asking questions, such as why there, and looking at the landscape and its changes in slightly more detail, it may help us to understand the movement of perhaps small groups of people away from areas of permanent settlement and into hinterland or more remote areas. The evidence left behind is often isolated, slight but also intriguing, and there are no easy answers to its interpretation. What we can acknowledge is that significant landscape changes such as modern windfarm erections and housing developments, as well as quarry extensions, are exposing these features for study in locations that otherwise would have remained undisturbed.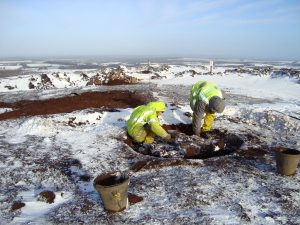 The examples Beverley will discuss include GUARD Archaeology discoveries at Newcraighall on the southeastern outskirt of Edinburgh, Soutra Hill overlooking East Lothian, Edston near Peebles and Quixwood in the Lammermuirs, part of a growing number of non-settlement sites that indicate camps, burial rituals, collection of natural resources, and perhaps even hunting. We have enough evidence to start to ask questions, to look at it regionally, and to see if patterns occur that aid greater understanding.