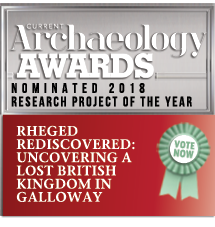 The results of one of GUARD Archaeology's community archaeology projects, undertaken with the Dumfriesshire and Galloway Natural History and Antiquarian Society has been nominated in the Research Project of the Year category in the 2018 Current Archaeology Awards.
Rheged rediscovered: uncovering a lost British kingdom in Galloway was published earlier this year in Current Archaeology 327 and summarises the results of the Galloway Picts Project at Trusty's Hill in Gallloway, which revealed a royal stronghold that lay at the heart of a lost Dark Age kingdom that was once pre-eminent in northern Britain.
The full results of this work – The Lost Dark Age Kingdom of Rheged: The Discovery of a Royal Stronghold at Trusty's Hill, Galloway – was published by Oxbow as a hardback book. It is also available as an ebook, either as an Epub (e.g. for kindle readers etc) or PDF (for any device).