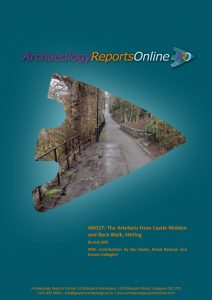 Recently published research reveals a range of artefacts recovered from two sites on the edge of the medieval burgh and castle at Stirling.
Material from an eroding midden below the western walls of Stirling Castle was recognised and initially recovered by local volunteers and pupils from Allan's Primary School over a number of years and led to a programme of artefact recovery supervised by Dr Murray Cook, Stirling Council Archaeologist.
Further south along the western edge of the medieval burgh of Stirling, GUARD Archaeologists recovered artefacts during a watching brief when a section of the Back Walk footpath was repaired.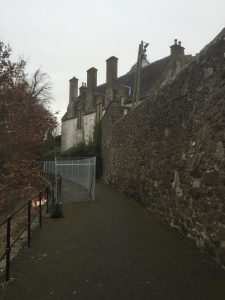 This section of footpath runs behind Cowane's Hospital next to the Church of the Holy Rude and on the perceived line of the Stirling town wall, which was constructed sometime in the sixteenth century.
Over 2000 artefacts in total were recovered; they included medieval and post-medieval pottery, a misshapen musket ball, as well as modern glass and ceramics. Subsequent post-excavation analyses of these artefacts were co-ordinated by GUARD Archaeology Ltd.
The material seems to have been deposited as rubbish simply by dumping it over the edge of the crag and certainly the small abraded nature of even the 'modern' pottery would suggest that the material had been moved or re-deposited over time after the initial discard.
Among the medieval and post-medieval assemblages are examples of the main pottery fabric types found in Scotland, as well as imported material from England and mainland Europe. These give an indication of the importance of local pottery production as well as further away trade links to the burghers of Stirling throughout the centuries. Numerous clay tobacco pipe fragments were also recovered from both sites, mainly of post-1850 date, but the assemblage includes four bowls from the seventeenth century.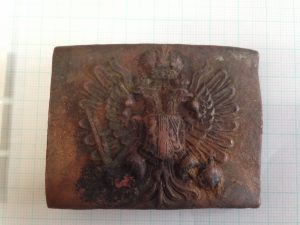 One of the more unusual artefacts to be recovered from the Back Walk was a WWI military belt buckle. The military buckle is from the Austrian army and has the double headed imperial eagle and the Austrian coat of arms and is one that was standard issue during WWI.
'Unfortunately, the buckle was a stray find so we don't know how it got to the Back Walk, whether it was lost or thrown out,' said report author Bob Will from GUARD Archaeology. 'Stirling Castle was an important working military barracks at the time with a military prison and hospital therefore the buckle could have come from a prisoner or it could have been picked up by a British soldier serving at the front. As this year commemorates the centenary of the end of WWI the buckle reminds us that the war had far reaching affects throughout the country.'
The full results of this research, which was funded by Stirling Council, ARO27: The Artefacts from Castle Midden and Back Walk, Stirling by Bob Will is freely available to download from the ARO website – Archaeology Reports Online.