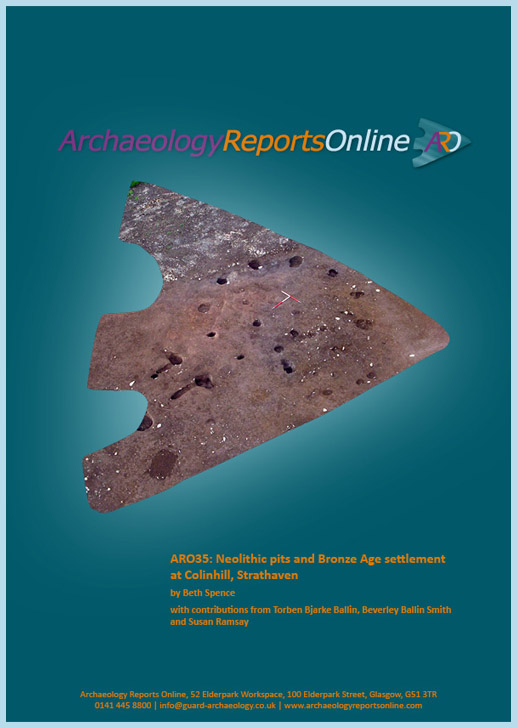 In 2015, GUARD Archaeology Ltd carried out an excavation in advance of a housing development at Colinhill on the outskirts of Strathaven in South Lanarkshire. The work, which has just been published, revealed two adjacent but distinct Bronze Age roundhouses dating to the mid-second millennium BC and two Neolithic pit groups dating to the fourth millennium BC.
The Neolithic pit groups are indicative of nearby inhabitation. Radiocarbon dates indicate that although the two groups fall broadly within the early and the middle Neolithic (3700–3000 BC), they likely date to either extreme of this and could be up to 700 years apart in origin. The artefactual assemblages present within the pits are typical of those associated within the earlier Neolithic period. These assemblages include a range of Carinated Bowl pottery, pitchstone tools, worked stone tools, axe-head fragments and burnt bone and stone fragments. Both the earlier and latter group of Neolithic pits at Colinhill all comprise un-weathered pits with all but one containing a single mixed deposit, suggesting that the material may have been worked and mixed prior to a swift deposition after the feature was dug. The presence of the two groups around 180 m apart suggest that the upper slopes of Colinhill were sporadically revisited.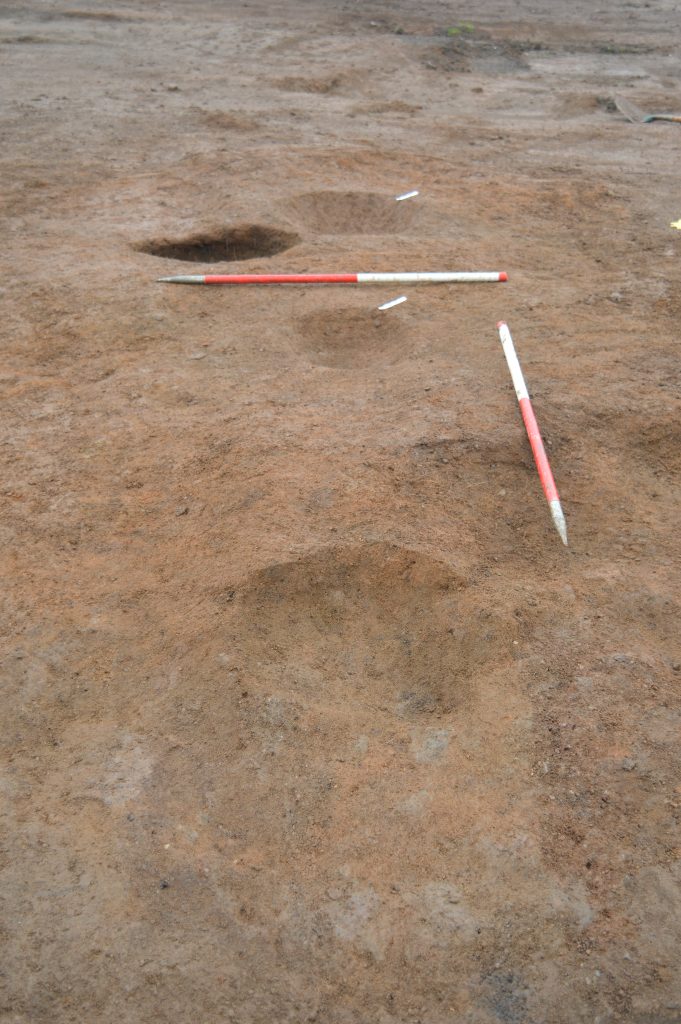 The particularly high proportion of pitchstone, which originates from Arran, could be connected to the sites' proximity to Biggar, which has been previously identified as an area of high pitchstone concentrations. The pottery assemblage also reflects shared attributes of style and technique evident across several Neolithic sites in south-west Scotland. Altogether these provide insight into the exchange of materials and ideas across southwest of Scotland.
The two roundhouses on the other hand date to around the middle centuries of the second millennium BC – the middle Bronze Age – though it is unclear if they were at any point contemporary with each other. Radiocarbon dating shows that Roundhouse A may have been slightly earlier but there is a possibility that occupation of the two structures overlapped in time. The evidence within both roundhouses for repairs certainly suggests that attempts were made to prolong the life of each structure.
Both roundhouses appear to be typical of a turf or earth constructed ring-bank and post-built structure with east facing entranceways. Given the scale and arrangement of the structure along with the presence of domestic waste material within the post-holes, it seems feasible that both were primarily domestic structures. The 9.1 m diameter of Roundhouse B and 9.5 m diameter of Roundhouse A are also roughly typical of similar structures in western and southern Scotland at this time.
Significantly, both roundhouses share the presence of much earlier Neolithic material. While some of these objects are small enough that they may have originated from the earlier Neolithic activity on the site and ended up unintentionally within the backfill of Bronze age post-holes and ditches; this becomes less likely for the much larger Neolithic objects,  leaf-shaped flint arrowhead and a pitchstone core, recovered from Roundhouse B. It seems probable that there was an intentional aspect to the deposition of these objects, which may have been found by the later Bronze Age inhabitants who retained them for their 'exotic' form and material. This makes consideration of the lifecycle of these objects particularly interesting, with it being possible that they may have been deposited with a ritual aspect twice, over a millennium apart; firstly, as part of the structured deposition of an early Neolithic Carinated Bowl assemblage from a nearby pit, and then again on their discovery in the middle Bronze Age as part of the roundhouse construction.
The archaeological works were funded by Stewart Milne Homes, Robertson Homes and L S Smellie and Sons Ltd. ARO35: Neolithic pits and Bronze Age settlement at Colinhill, Strathaven by Beth Spence with contributions from Torben Bjarke Ballin, Beverley Ballin Smith and Susan Ramsay, is freely available to download from the ARO website – Archaeology Reports Online.