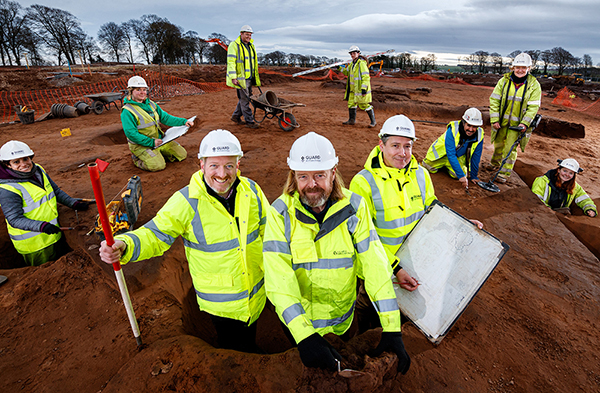 GUARD Archaeology Limited is the latest business in Scotland to become employee-owned, with 32 permanent members of staff given a stake in the business.
Formerly part of Glasgow University, GUARD Archaeology started trading as an independent company in January 2011, owned by eleven employee shareholders. The majority shareholders wanted to plan for their eventual exit by considering succession options early. They were looking for a solution that would allow them to step back but at the same time create an equitable and sustainable structure for the company going forward.
Commenting, John Atkinson, director at GUARD Archaeology, said: "The matter of succession had originally been in the back of our minds as something we would need to consider eventually, however, when we started exploring employee ownership as a potential solution, we were so sold on the benefits that we decided to make the transition sooner rather than later."
Ronan Toolis, director at GUARD Archaeology, added: "The transition to an Employee Ownership Trust strengthens the long-term future of our company, and by retaining employee ownership we are maintaining the original ethos of the company."
GUARD Archaeology was owned by several shareholders who all worked in the business, so it was important to staff that the company wasn't sold to a single buyer or that control of the company was moved out of Scotland where the bulk of GUARD Archaeology's work is undertaken. Employee ownership is an excellent business model which benefits everyone. The previous majority shareholders will continue with their day to day roles in the business for as long as is required, with the knowledge that the future is taken care of, while the rest of the employees are given a stake in the business and a role in how it is run. This will hopefully increase job satisfaction and productivity whilst ensuring That GUARD Archaeology continues to deliver a high quality service.
John Atkinson continued: "Protecting jobs was also an extremely important factor in our decision. Many employees have been with the business for a long time and have played a vital role in its success. Moving into employee ownership gives the opportunity for job security to everyone who works here and enables them to have collective control of their future. The staff are very excited about the opportunities it will bring for the future growth of the business."
An Employee Ownership Trust has been formed and holds 100% of the shares on behalf of the employees. The transition to employee ownership was supported by Co-operative Development Scotland (CDS), with the process managed by 4-consulting, legal services by Blackadders LLP, and accountancy services by RJ Hart.
Head of Co-operative Development Scotland, Clare Alexander, added: "The majority shareholders wanted a solution that would enable them to manage their succession long term, whilst ensuring that jobs were rooted in the local area and the original ethos of the company was retained. The move to employee ownership solves these issues, while bringing a host of additional benefits for all parties in the deal."
Statistics demonstrate that employee-owned businesses consistently outperform their non EO counterparts in terms of higher levels of profitability, increased productivity brought about by higher levels of engagement and enhanced employee wellbeing, as well as improved business resilience during times of recession. Within Scotland, there are now around 110 employee-owned companies operating, with approximately 7,500 employee-owners generating a combined turnover of around £950 million.