As the Trams to Newhaven construction work resumes in Edinburgh during the phased moving out of lockdown, we consider the assortment of artefacts GUARD Archaeologists unearthed during works earlier this year.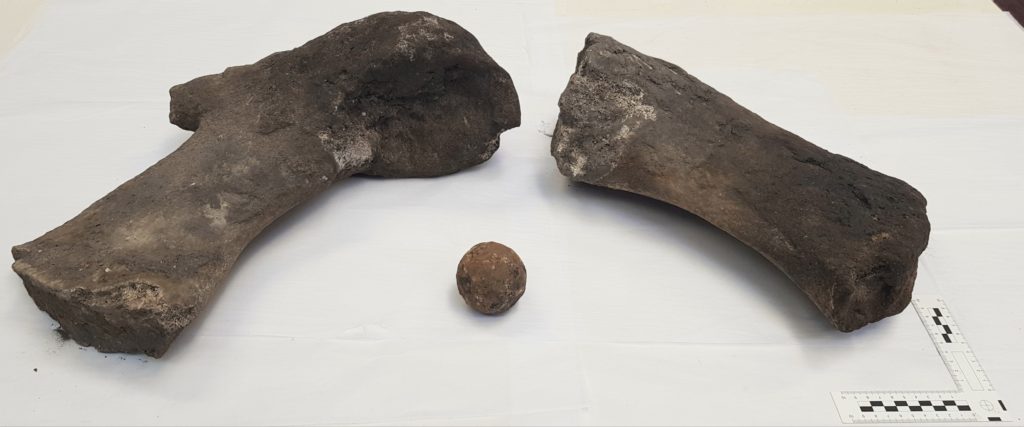 A radius and ulna (part of the fin) of a large adult male sperm whale were found on Constitution Street. The bones have yet to be carbon dated (this has been delayed due to the coronavirus pandemic), but this may help shed light on Leith's historic whaling industry.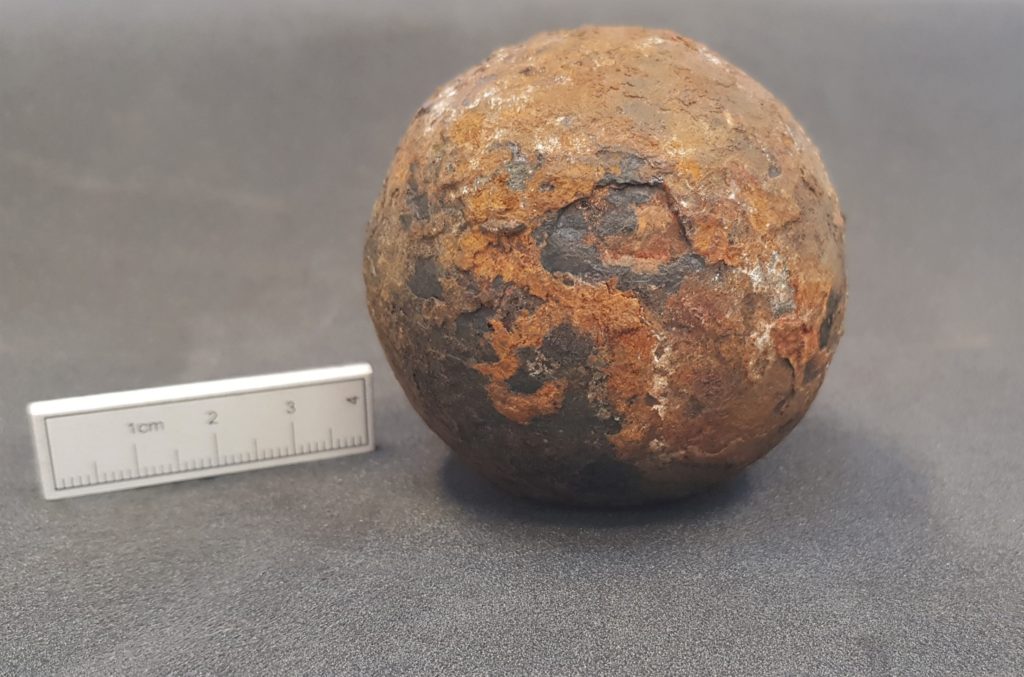 A small Iron cannonball found in Constitution Street may date back to the seventeenth century – it is of a type used around the time of the Civil Wars when Leith was refortified.
Excavations between Bernard St and Tower Street have revealed important evidence relating to the reclamation of the area, including a large system of nineteenth century interlinked brick and stone box drains, eighteenth century walls and a possible slipway. Evidence of seventeenth century clay pipes also indicates that the reclamation of the area could have occurred earlier than first thought.
Prior to lockdown the heavily truncated remains of a large stone wall were discovered running east to west under the Junction of Bernard Street and Constitution Street. This may be part of the seawall for the sixteenth and seventeenth century town fortifications – the team will be investigating this when the project restarts.
"The Trams project will allow us to discover more about the history and development of Leith from the medieval period to the modern day," said Bob Will of GUARD Archaeology Ltd, who is managing the archaeological works.
Archaeological work began on Constitution Street in November 2019 was stopped at the end of March, along with the wider project, to comply with Government guidance and to protect the safety of workers and residents during the coronavirus outbreak.
During the first phase, the team also took down part of a wall surrounding Constitution Street Graveyard, dating back to 1790, ahead of the graveyard's wider excavation later this year. During preparatory work to recover any human remains, GUARD Archaeologists discovered what appears to be a large charnel pit which may contain the remains of some burials recovered from the laying of nineteenth century services in Constitution Street. This will be further investigated when works recommence.
In line with Scottish Government guidance, construction resumed on existing sites on Lindsay Road, Melrose Drive and Constitution Street, this week, along with preparatory works on Leith Walk. Main construction works on Leith Walk from Elm Row to Crown Place will start on Monday 22 June. All works, including archaeological investigations, will be carried out while maintaining physical distancing and with additional measures to protect workers' and the public's health in place.
Find out more about Trams to Newhaven on the project website.