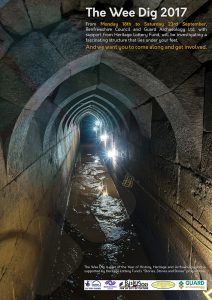 GUARD Archaeology Ltd are returning to Paisley Abbey on 18 September 2017.
A substantial and well-built stone drain linked to the monastic precinct of Paisley Abbey runs through the park and gardens to the south of the Abbey and close to the River Cart. Previous investigations of the archaeological context of the drain, examining the ground around it, uncovered the remains of cobbled surfaces, stone built walls and a stone-built oven along with artefacts including medieval pottery. The Wee Dig is now looking at a previously unexplored part of the grounds in attempt to unlock some of the mysteries of Paisley Abbey's medieval past.
A geophysics survey using resistivity will first be carried out. Using the result of this geophysical survey, two trenches will be excavated to uncover what lies beneath.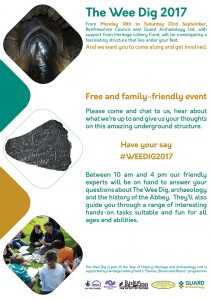 Come along and join in! The excavation will run over six consecutive days (Monday 18 September to Saturday 23 September 2017) from 10.00-16.00. The training will be hands on with a range of tasks to suit all ages and abilities.
The Wee Dig Project 2017, part of the Year of History, Heritage and Architecture, is managed by Renfrewshire Council and is supported by the Heritage Lottery Fund 'Stories, Stones and Bones' fund. Please note that there will be no access to the drain itself.