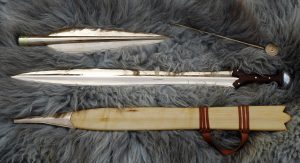 Although the museum where the excavation assemblage will be eventually exhibited has yet to be determined, Angus Council are keen to be proactive in the presentation of these important finds within the Angus area. To this end the programme of post-excavation works includes the production of replica items from the Bronze Age Carnoustie hoard discovered at the site, which will be suitable for public display and educational purposes. It will be possible for all items to be handled by children and adults, under supervision. 

The replica spearhead, sword and pin were cast and finished at a scale of 1:1 by Neil Burridge, a Bronze Age metalwork expert who has provided similar items for display and reenactment purposes across Britain for over 12 years (http://www.bronze-age-swords.com). Neil also produced a scabbard for the sword.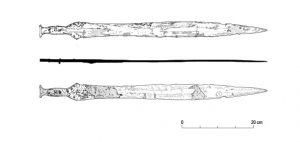 Neil was provided with scale illustrations of the sword and spear prepared by GUARD Archaeology's Senior Graphic Officer, Gillian Sneddon. This ensured that the replica objects are an accurate representation of the items discovered at Carnoustie. The items were cast in bronze, and the sword hilted in a similar material to that found in the hoard. The golden collar on the spearhead was replicated in design and form with a gold coloured base metal.