Earlier in June a team of GUARD Archaeologists made a visit to Carnoustie High School, which lies adjacent to the archaeological site. Approximately 22 students had been selected by the school for some archaeological workshops. An initial presentation by the excavation director provided an overview of the project from the initial evaluation, through the excavation, and into the post-excavation process, which is the stage we are at the moment. After the talk, the school students were split into two groups, one for drawing artefacts and one for photography, with each workshop led by GUARD Archaeology's Graphics Officers.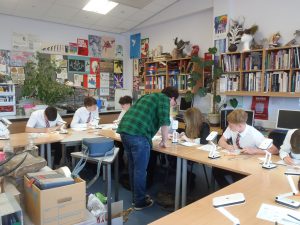 During the Artefacts Illustration workshop, the students were shown a selection of finds from Carnoustie (prehistoric stone tools, lithics and pottery) and were then asked to select one that they would like to draw. They then learned how to draw different types of artefacts by drawing around it then using dividers to measure and correct the outline. They also used a magnifier to add in detail and were given a small light to create a light source for shading. Once they had finished the pencil drawing they traced over it using fibre tipped pens to produce a final drawing.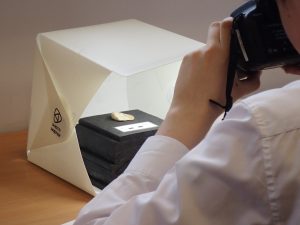 For the Artefacts Photography workshop, the students took pictures of prehistoric stone tools and pottery using either a portable light box or portable desk lights. They learned how to use photo scales and also how lighting can emphasise detail of an object. The students were also taught how to use a digital SLR camera to achieve best results for close up images of artefacts under different lighting.
These workshops will be followed up with a second day in Autumn 2018 which will examine more of the results from the post-excavation analyses and the science behind each specialism.